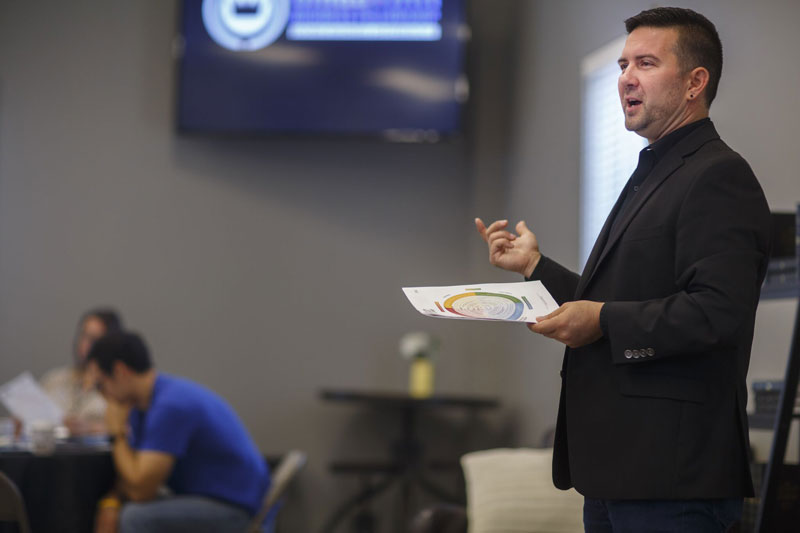 Karl Diffenderfer is a change agent that has been impacting thousands of entrepreneurs and leaders for over 15 years. From the ground up, he built a successful internet marketing firm with hundreds of customers across the globe. His company was award-winning and generated millions of dollars in revenue. When presented with the opportunity, he decided to sell the company to transition into teaching others how to do what he has done.
5 Important things to know about Karl
Exited an Award Winning business at age 32, growing customers from 0 to over 1,000 through personal efforts, acquiring competitors along the way

Generated over $100 million in revenue utilizing key business process & marketing strategies

Earned Free Cash Flow through a business that required less than 5 hours a month

Doubled business revenue during several economic downturns

Helped grow and scale thousands of businesses worldwide, as an investor, author, and coach
Now he has numerous companies that he owns, oversees, and runs with clients and team members worldwide. He is excited about the social impact he provides by sustaining families with jobs and training for those in less fortunate regions of the world. He has started, built, purchased, grown, and sold numerous companies over the years. At Karl's core, he thrives on connecting and providing immense value with his diverse background and experience.
Karl teaches entrepreneurs and business leaders how to build a company that runs itself so they can live out their life purpose. He accelerates their growth by helping them work ON their business instead of IN their business. He is an author with curriculum and resources that provide a wealth of knowledge, awareness, and perspective.
Karl also empowers business leaders who want to become an advisor by teaching them his duplicatable system. The team at Higher Impact now includes a total of 10 coaches with locations nationwide.
The companies that Karl currently owns and operates are:
• Higher Impact Consulting Group
• Greenwood Tiny Homes
• Lancaster Website Company
• Virtual Assistants Company
On a personal level, Karl's faith journey and walk with his Heavenly Father are his top priority. Serving his wife and children are his second priority in life. He is excited to be passing his legacy on to them. He is an avid classical pianist and worship leader. He also enjoys reading, ultimate frisbee, basketball, running, and traveling.